Rassegna NTlive 2019
NATIONAL THEATRE LIVE
2019 selection
Tornato gli spettacoli teatrali dal West End londinese in versione originale sottotitolata in inglese
Esclusiva nazionale, solo al Cinema Tiberio di Rimini
Theatre from London West End in original version, subtitled in english
Exclusive national, only at Cinema Tiberio.
Biglietteria: € 10 – € 8
Agevolazioni per scuole e gruppi, previa prenotazione.
Tuesday 12th February 2019 – h 20:00
CAT ON A HOT TIN ROOF
by Tennessee Williams
directed by Benedict Andrews
Tennessee Williams' twentieth century masterpiece Cat on a Hot Tin Roofplayed a strictly limited season in London's West End in 2017. Following his smash hit production of A Streetcar Named Desire, Benedict Andrews' 'thrilling revival' (New York Times) starred Sienna Miller alongside, Jack O'Connell and Colm Meaney.
On a steamy night in Mississippi, a Southern family gather at their cotton plantation to celebrate Big Daddy's birthday. The scorching heat is almost as oppressive as the lies they tell. Brick and Maggie dance round the secrets and sexual tensions that threaten to destroy their marriage. With the future of the family at stake, which version of the truth is real – and which will win out?
More information_ NTLIVE
Wednesday 13th March 2019 – h 20:00
ALLELUJAH!
by Alan Bennett

Filmed live at London's Bridge Theatre during its limited run, don't miss Alan Bennett's 'rousing chorus line for the NHS' (Observer) in your local cinema.
The Beth, an old fashioned cradle-to-grave hospital serving a town on the edge of the Pennines, is threatened with closure as part of an efficiency drive. A documentary crew, eager to capture its fight for survival, follows the daily struggle to find beds on the Dusty Springfield Geriatric Ward, and the triumphs of the old people's choir.
Alan Bennett's celebrated plays include The History Boys, The Lady in the Van and The Madness of George III, all of which were also seen on film. Allelujah!is his tenth collaboration with award-winning director Nicholas Hytner.
Letterpress graphic by Alan Kitching, art directed by Michael Mayhew.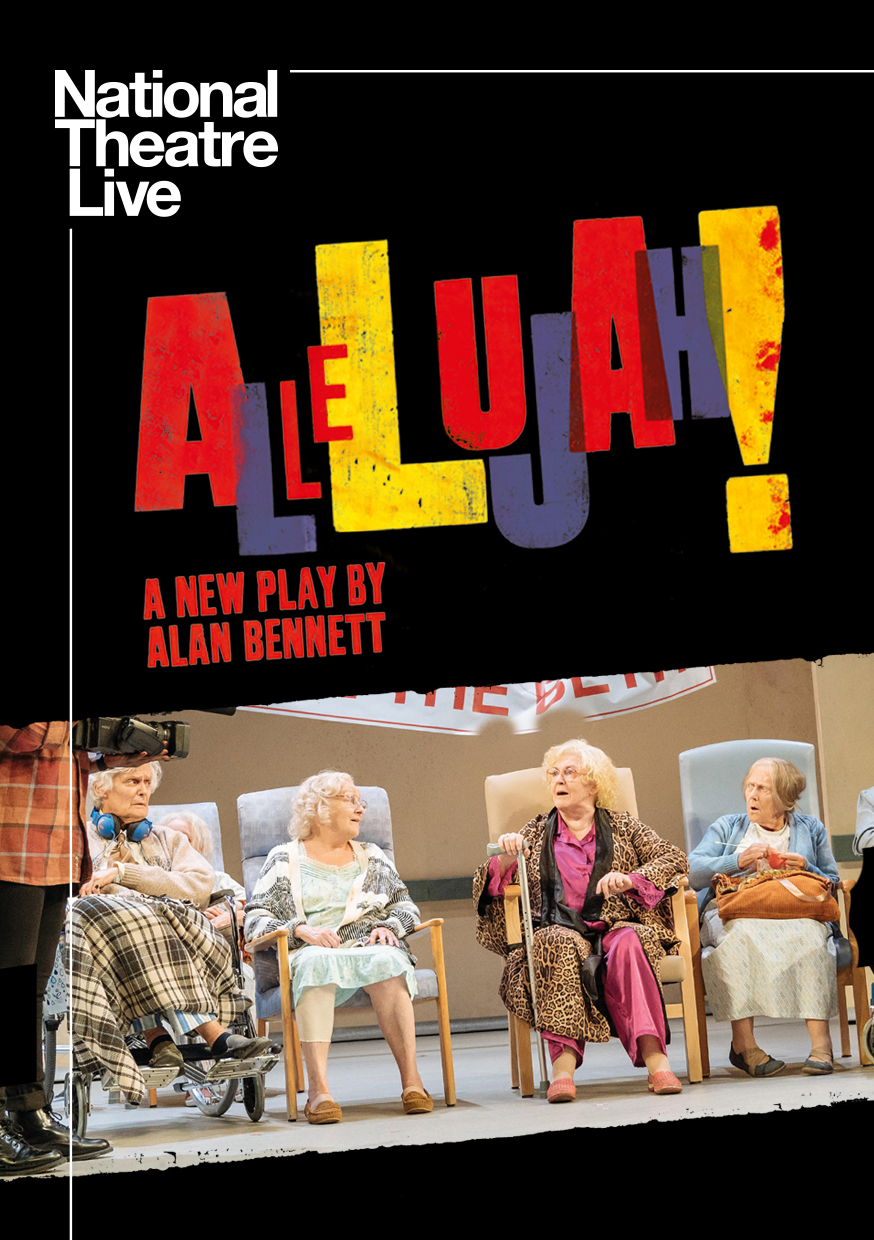 Tuesday 09th April 2019 – h 20:00
THE MADNESS OF GEORGE III
by Alan Bennett

Multi-award-winning drama The Madness of George IIIwill be broadcast live to cinemas, in National Theatre Live's first ever broadcast from Nottingham Playhouse.
Written by one of Britain's best-loved playwrights Alan Bennett (The History Boys, The Lady in the Van), this epic play was also adapted into a BAFTA Award-winning film following its premiere on stage in 1991.
The cast of this new production includes Olivier Award-winners Mark Gatiss (Sherlock, Wolf Hall, NT Live Coriolanus) in the title role, and Adrian Scarborough (Gavin and Stacey, Upstairs Downstairs, After the Dance).
It's 1786 and King George III is the most powerful man in the world. But his behaviour is becoming increasingly erratic as he succumbs to fits of lunacy. With the King's mind unravelling at a dramatic pace, ambitious politicians and the scheming Prince of Wales threaten to undermine the power of the Crown, and expose the fine line between a King and a man.